As you know I went on vacation with my friends to Dubai about a month ago. We tried to do as much as possible during that time, so I thought that I would share my top 5 of things you should do when you go to Dubai. I hope I will be able to go back soon, it is such a beautiful city. But meanwhile I dream of that...
Here you have my top 5:
1.
Full-day tour of Dubai and Abu Dhabi
If you have limited time and want to see as much of Dubai as possible you should go on a full-day tour of Dubai, preferably including a chance to see Abu Dhabi. The tour should include Burj Khalifa of course - because have you really been to Dubai if you haven't seen it? And even though you aren't religous it worth seeing the Grand Mosque of Abu Dhabi because, it is a "must-see in the Emirates" for a reason. Another bonus when you go on a tour and don't explore yourself is all the intresting facts you get from your tour guide and of course that you get picked up right at your hotel.
2.

Premium Red Dunes & Camel Safari with BBQ at Al Khayma Camp
Another must do when you go to Dubai is explore the desert. You'll get surprised how much fun you can have in the sand. Sandboarding really is a fun experience. Camels migh not be my favorite animal but it is fun to be able to say that I have ridden on a camel. My friends took really fun and nice pictures for my Instagram posing with and on that camel. Many times at these sand dunes experiences it includes local performances, nice photos of the sunset and a delishous barbecue dinner.
3.

Dubai Atlantis Aquaventure (including Lost Chambers Aquarium)
In the heat it is really nice to have some water activities. And I can imagine that this is extra fun if you have kids. But even as young adults it was really fun to enjoy the rides on this waterpark, and when you've had enough of the fun you can float along lazy rivers and relax on the beach.
4. Dubai Marina Luxury Yacht Tour with Breakfast or BBQ
If you go to Dubai as a couple, a romantic yacht tour can spice up your trip. I can imagine that this would be a great way to propose too. But even as a group of friends it was really nice to enjoy luxury life. You can choose between breakfast or bbq, and we chose bbq. From the superyacht you have a great view of the city and it's famous buildings. This, with other words, gives another great oppertunity to take amazing photos. And I can say that after the eventfull day at the waterpark it was great to just relax on a yacht.
5. Bateaux Dubai Dinner Cruise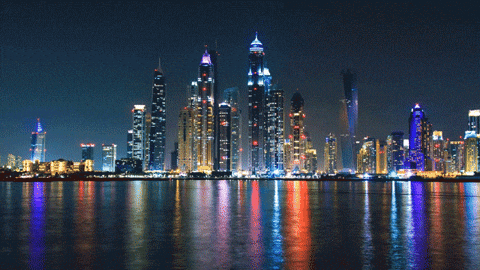 If you couldn't get enough of the boat experience, here is something special. You can cruise on the Dubai Creek, eat dinner and have an amazing view through the glass-walls on the boat. Yes, glass walls! The dinner is a 4-course, pretty luxurious, that includes sodas, wine or beer depending on the package you choose. I wouldn't call this a must do, but it is really an experience.